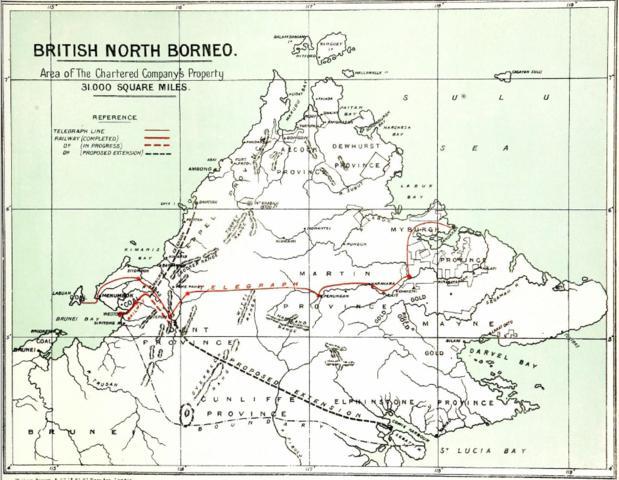 The Land Office and Survey Office were established in Sabah in the 19th Century and until 1940, both these offices functioned separately where the Land Office is administered by a Commissioner of Lands and the Survey Office is administered by a Surveyor General. From 1940 to 1947, the Land Office and the Survey Office were amalgamated and administered by a single officer known as the Commissioner of Land and Surveyor General. From 1947 until 1954, the Land Office and the Survey Office were once again separated under different administration. Anyway, these two Offices were finally amalgated since 1954 until today administered under a Director of Lands and Surveys and assisted by a Deputy and two Assistant Directors.
The first survey plan was deposited in 1883 and the first title "Country Lease No. 1" was registered in February, 1884 in the District of Kudat.
former Lands and Surveys Office building in Kota Kinabalu Town became a historic building as the "proclamation" of the then North Borneo including Labuan as a Colony on 15th of July, 1946 took place in this bullet-riddled building. This building is one of the few which survived the 2nd World-War and still intact. It was being used by the then State Government and surrounded by Standard Chartered Bank, Hong Kong & Shanghai Bank, Harrison & Crossfield and the water front.
Until 1913, there were separate Land Registry Offices in Sandakan, Kota Kinabalu, Kudat and Tawau. During 1913 the Central Land Registry was established in the Office of the Commissioner of Lands in Kota Kinabalu and the registration of all titles other than Native Titles began to be done in the Central Land Office. Registration of Native Titles continues to be done in the districts by the Assistant Collector of Land Revenue.
At present, the Land Offices for the districts of Tawau, Lahad Datu, Sandakan, Keningau, Beaufort, Kudat and Kota Kinabalu are administered by Assistant Collector of Land Revenue who are staff of the Lands and Surveys Department and in the remaining 16 districts, the District Officers and Assistant District Officers perform the duties as Assistant Collector of Land Revenue whose main job is to look after land matters at district level. It is anticipated that land administration in all districts in Sabah can eventually be taken over by officers of the Lands and Surveys Department so that that land administration can be done more professionally, effectively and efficiently.
The history and revolution of the Lands and Surveys Department has direct bearing on the history and development of the State since the functions of this department is related to 'land'. Land is a source of all material wealth and the basic requirement of any development, be it agricultural, residential, industrial, commercial or social. The increasing tempo of the State development is the evident of the significant and active role played by the Department in the development mainstream of the State.
Former director of Land & Survey Sabah
---